This topic includes:
Besides recording for »MADRIX AURA, you can use the Recording functionality to create MADRIX 5 Record files [of the file type *.mrec].
This file type can be used in 2 ways:
There are two locations in the MADRIX 5 Software where you can create records.
Patching
Please configure your virtual LED matrix with the help of the »Matrix Generator or »Patch Editor to define the correct resolution for your record.
Options
Before you start recording, make sure to set up your required frequency [FPS] in the Options.
Learn more »Recording
Overview
You can find the Main Output Recording directly on the main user interface.
As the name implies, you will record everything from your Main Output. This will include any crossfades, effect changes, brightness changes, etc.

Important Note
How To Record
Context Menu
- Set Duration... - Allows you to set a specific time that the record should last [HH:MM:SS].

- Watch... - Calls up the Main Output Recording window again for more details.
- Options... - Calls up the Recording Options. Learn more »Recording

- Cancel - Aborts the recording process without asking you to save the file.
Overview
The Cue List Recording features are part of the Cue List .
You can open the Cue List in 3 ways:

Important Note
How To Record
Context Menu
Overview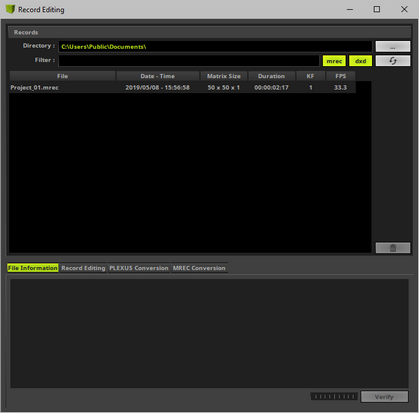 Records
This section allows you to work with your record files.
File Information

Record Editing
After creating a record, you can edit the record.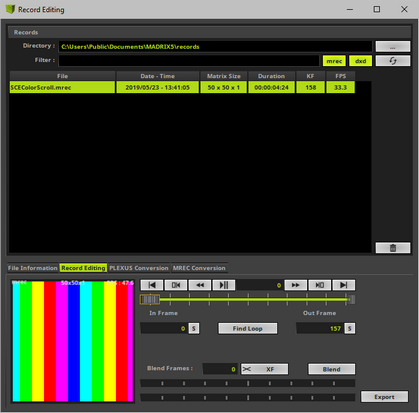 PLEXUS Conversion

Follow these steps to play back a record file in SCE Video:

1] Select the effect SCE Video.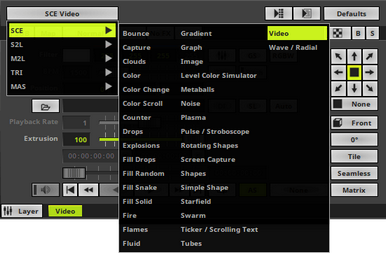 2] The controls of the SCE Video effect become available as a result.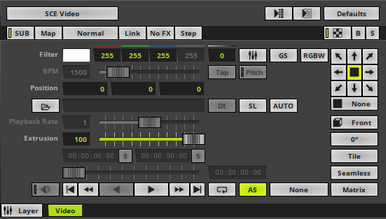 3] Load your MADRIX 5 Record file [of the file type *.mrec].


Use Open and select the file you wish to play.
4] The SCE Video effect will play your Record file.