This topic includes:

MADRIX features 3 main Previews.
That means that you can have a look at your effects and visuals before they are displayed on your LED installation. These are live previews and they show everything in real time.
As explained earlier, you can use MADRIX to control 2D and/or 3D projects. [Learn more »2D Or 3D [X, Y, Z]]
The 3 Previews support a 2D mode and a 3D mode to adequately represent your LED installation. In this way, they are an important part of your workflow when working with your project.


You can use the Previews in 3D Mode, even if your virtual LED matrix is only 2D.
And you can use the Previews in 2D Mode, even if your virtual LED matrix is in 3D.
Overview
You have different options of working with each Preview. It depends on 2D mode or 3D mode which options are available to you.
2D Mode
Using The Mouse
[Stretch Pixels needs to be deactivated.]
Keyboard Shortcuts
Context Menu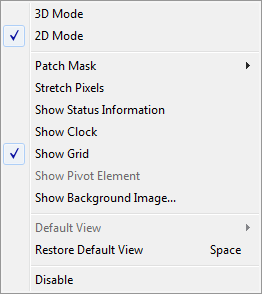 3D Mode
Using The Mouse
Keyboard Shortcuts
Context Menu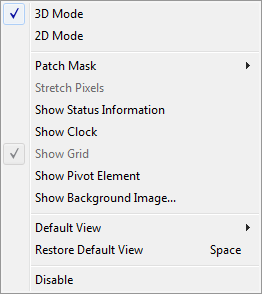 The Previews mainly show your effects and visuals. Depending on different settings and requirements they convey additional information. Note: The different scenarios explained below can apply at the same time.
Intensity
When controlling LED lighting, the intensity of the light output makes up a large factor of the light design. The Previews will represent your intensity settings.
There are many ways how to control the intensity in MADRIX. The main examples are:
Rendering
One of the main features of MADRIX is that it renders visuals and effects live in real time. Regarding the overall performance, you can define a specific setting in the Options that will also influence the Previews. Depending on your settings, MADRIX will include all voxels in the rendering process or only the ones that are patched.
Learn more »Performance
Patch Mask
When letting MADRIX render all voxels, you can further decide how the Previews work. Voxels that are used [a fixture is set up at this position] are displayed brighter than voxels without LED fixtures. Compared to this, MADRIX offers two choices in order to show or hide voxels that are not used. This will influence all 3 Previews. Positions without fixtures will be dark gray or they will not be shown and set to black.
Note: The Patch Mask will only fully apply, when your performance settings include all voxels, as explained above. If your performance is set to only include patched voxels, the voxels will always be shown opaque. Changing the Patch Mask setting will not influence the Previews anymore.
MADRIX License
The Previews will indicate if you are using a higher output [as set by the virtual LED matrix in the Matrix Generator or Patch Editor] than your MADRIX license version provides. Unlicensed areas will be shown darker.
Select Help > About... to check your MADRIX license version and product serial numbers.
Individual Patch
When setting up an individual Patch in the Patch Editor, there might be areas where no fixtures are located according to your LED installation. These areas without any fixtures will automatically be displayed darker to indicate that this area is not in use.
You can change further settings of the Previews.
Learn more »User Interface
Learn more »Performance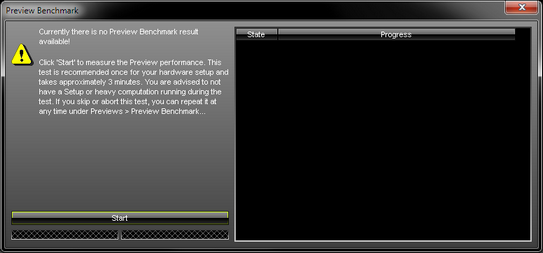 DVI Output And External Previews
The 3 Preview windows explained above are technical representations of the effects MADRIX creates for you. But they are not pixel-perfect outputs.
DVI is another way to work with LED products which requires such a correctly sized output. To use DVI, MADRIX offers other options.
The following MADRIX software license versions offer DVI output:
DVI output allows you to easily control large LED pixel walls or use screen-capturing, for example.
Learn more »DVI
Invalid OpenGL Version
MADRIX might show the following error message:
If the Previews show this error message, it means that there is a problem with the graphics card of the computer:
To solve the issue: