This topic includes:
Art-Net is a communication protocol that allows to distribute DMX512 data over Ethernet network [DMX over Ethernet].
Art-Net has been invented by Artistic Licence and has now been published into the public domain. Often, so-called Art-Net nodes then act as Ethernet to DMX512 converters and hardware interfaces. Especially, long distances can be covered using Ethernet cabling.
MADRIX 5 is compatible with
It is highly recommended to only use Gigabit Ethernet network components [such as network card, switches, network cabling, etc].
1] Set up the correct network settings in Windows.
2] Activate Art-Net in MADRIX 5.
3A] Add your Art-Net devices automatically.
3B] Add your Art-Net devices manually.
4] Edit the settings of your devices.
5] Activate your devices.
6] Assign the correct DMX universes.
7] Set up the Frame Time.
8] Choose to send optimized frames or full frames.
1] Windows Network Settings
Art-Net is a network-based protocol. MADRIX 5 will use the network card of your computer to send data.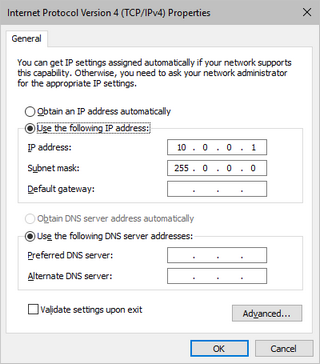 2] Activating Art-Net In MADRIX 5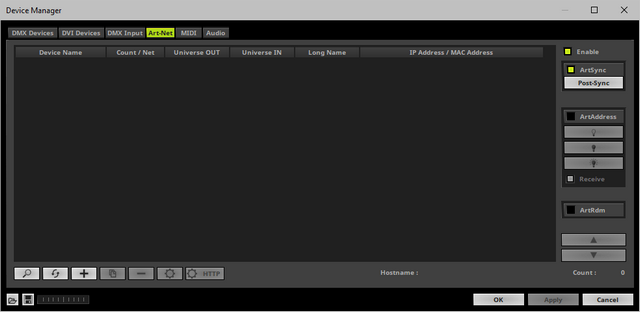 3A] Adding Devices Automatically
MADRIX 5 can automatically add devices using the ArtPoll Reply functionality if supported by the Art-Net device.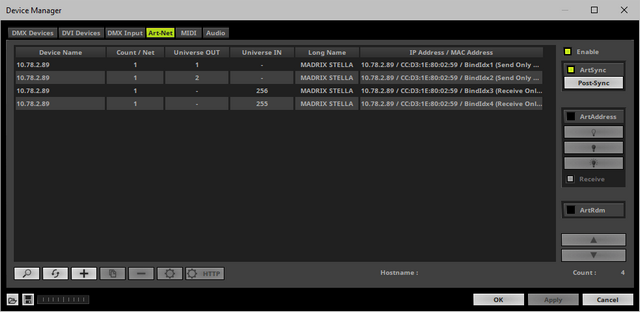 Some interfaces might not support ArtPoll Reply in order to add them automatically. Then, you need to add your devices manually.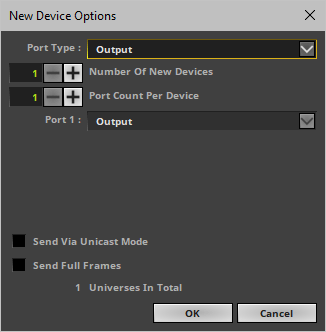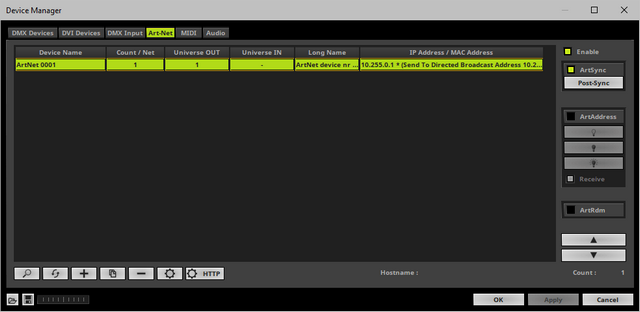 4] Device Settings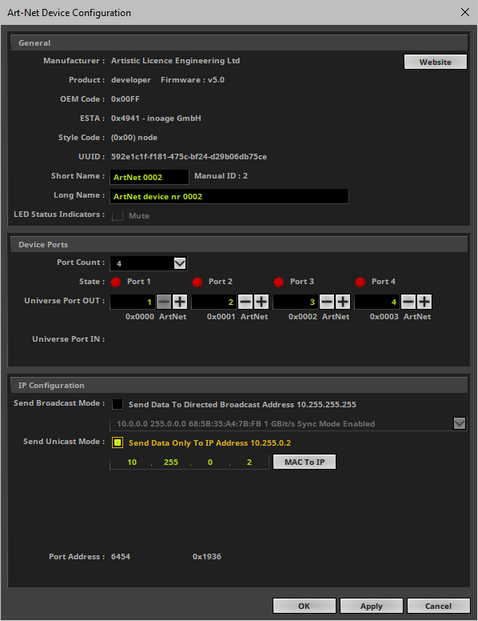 Set up specific settings for your device. The following settings are available [this depends if the device was added automatically or manually]:
5] Activating Devices
Each of your Art-Net devices need to be activated.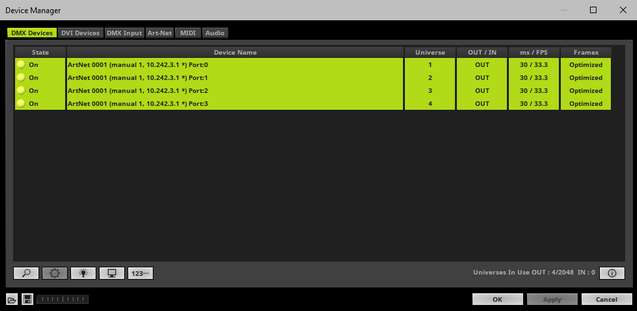 6] DMX Universe
7] Frame Time
8] Optimized Frames Or Full Frames
It is very important to set up the correct settings of your devices!
Broadcast Mode Or Unicast Mode
MADRIX 5 can send Art-Net data in 2 ways to your Art-Net devices:
Unicast Mode is recommended in general.
Sync Mode
MAC To IP Conversion

MAC To IP - Allows you to includes a tool to convert MAC addresses to IP addresses, and vice versa.

Managing Devices
Status Indicators [ArtAddress]
In order to use these features, please Enable ArtAddress first.
[Please make sure that your nodes fully support this Art-Net feature, such as MADRIX LUNA, MADRIX NEBULA, MADRIX PLEXUS, MADRIX STELLA, MADRIX ORION, and MADRIX AURA. You will also get notified by a message box. Confirm the message with OK or abort via Cancel.]
DMX Devices
Learn more about setting up devices under Preferences > Device Manager... > DMX Devices here »DMX512 [DMX-OUT]
If you are encountering problems, please work through the following checklist: