This topic includes:
MADRIX 5 supports audio input as well as audio output.
MADRIX 5 can work with an audio signal and it can work without an audio signal. But audio input is highly recommended. S2L and M2L Effects will create unique real-time effects based on sound, which will take your lighting display to the next level.
Audio input can come from different sources [internal or external]. It is just a matter of configuration. MADRIX 5 will allow you to set up every device that the Microsoft Windows operating system offers for recording.
Internal sources:
External sources:
Audio output can only come from videos played back in the SCE Video Effect. [The MADRIX 5 Software is primarily a lighting control tool without advanced audio functions.]
Learn more »SCE Video
Audio Configuration In The Windows Operating System
If MADRIX 5 should use an audio input or audio output signal, you have to define the proper audio device in Windows first.
The Recording device is used for audio input.
The Playback device is used for audio output.
Make also sure to set the right settings for the Windows Volume Mixer.
Audio Configuration In The MADRIX 5 Software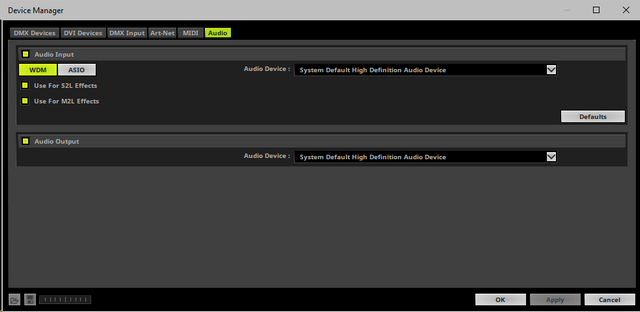 Audio Input Configuration With WDM

- Enables the standard Windows audio drivers [Windows Driver Model]. It is activated by default.
Audio Input Configuration With ASIO
ASIO [Audio Stream Input/Output] is a widely known audio standard.
Above all, the standard provides low latency; a feature often requested by professionals. When using ASIO, the MADRIX 5 audio analysis will be faster and more precise. While the WDM drivers often provide 100 FPS, even higher sampling rates are possible with ASIO.
ASIO is a trademark and software of Steinberg Media Technologies GmbH.



- Enables the ASIO audio drivers.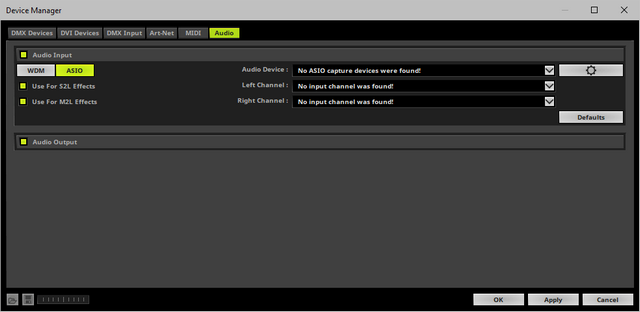 Configure the following settings:

Will let you configure your ASIO device further if advanced settings are available. Usually, the ASIO drivers that come with your interface will be launched. Make sure that your ASIO hardware is connected. Or else, no configuration window may be launched.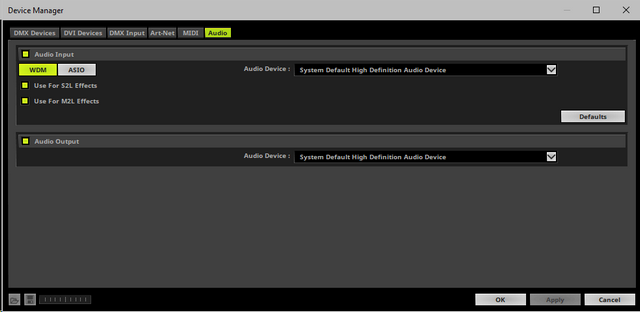 The results of the audio analysis are mainly influenced by the following factors:
You are able to adjust Audio Performance settings, which are the parameters for the audio analysis.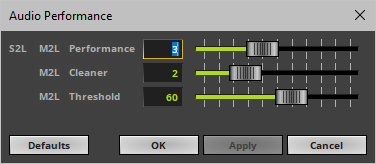 Different styles of music may require different Audio Performance settings for an optimal display.
The volume or audio input level as well as audio output level can be controlled on the user interface.
If you are having problems with the audio configuration, try the following: