This topic includes:

Art-Net is a communication protocol that allows to distribute DMX512 data over Ethernet network [DMX over Ethernet].
Art-Net has been invented by Artistic Licence and has now been published into the public domain. Often, so-called Art-Net nodes then act as Ethernet to DMX512 converters and hardware interfaces. Especially, long distances can be covered using Ethernet cabling.
MADRIX is compatible with
It is highly recommended to only use Gigabit Ethernet network components [such as network card, switches, network cabling, etc].
1] Set up the correct network settings in Windows.
2] Activate Art-Net in MADRIX.
3A] Add your Art-Net devices automatically.
3B] Add your Art-Net devices manually.
4] Edit the settings of your devices.
5] Activate your devices.
6] Assign the correct DMX universes.
7] Set up the Frame Time.
8] Choose to send optimized frames or full frames.
1] Windows Network Settings
Art-Net is a network-based protocol. MADRIX will use the network card of your computer to send data.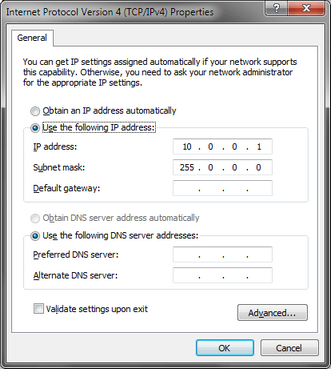 2] Activating Art-Net In MADRIX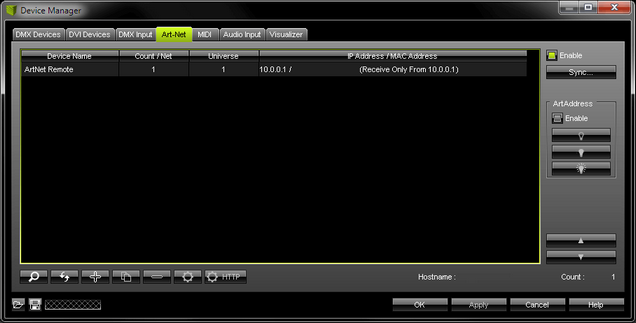 3A] Adding Devices Automatically
MADRIX can automatically add devices using the ArtPoll Reply functionality if supported by the Art-Net device.
3B] Adding Devices Manually
Some interfaces might not support ArtPoll Reply in order to add them automatically. Then, you need to add your devices manually.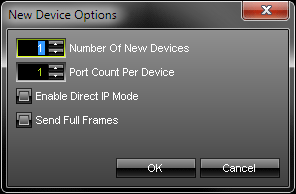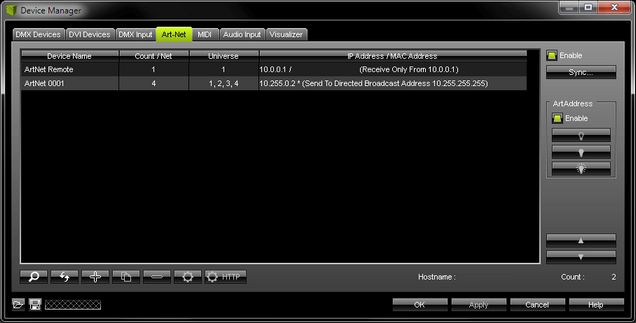 4] Device Settings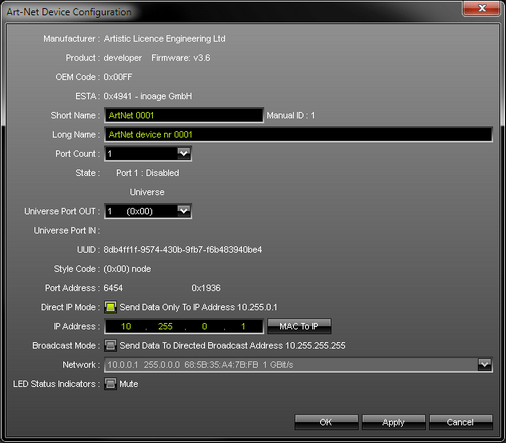 Set up specific settings for your device.
5] Activating Devices
Each of your Art-Net devices need to be activated.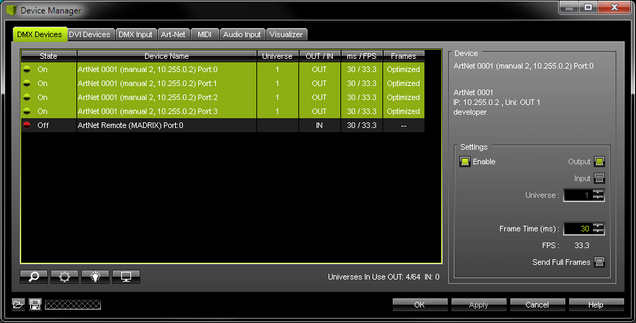 6] DMX Universe
7] Frame Time
8] Optimized Frames Or Full Frames
It is very important to set up the correct settings of your devices!
Broadcast Mode Or Direct IP Mode
MADRIX can send Art-Net data in 2 ways to your Art-Net devices:
Direct IP Mode is recommended in general.
Sync Mode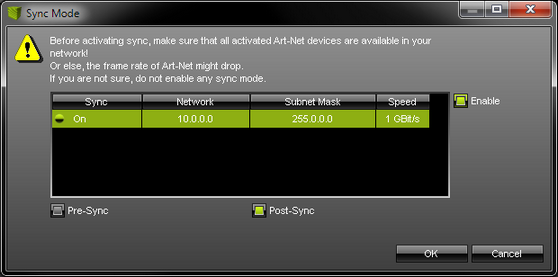 MAC To IP Conversion

MAC To IP - Allows you to includes a tool to convert MAC addresses to IP addresses, and vice versa.

Subswitch
If your Art-Net device is equipped with a subswitch, MADRIX is able to recognize this feature.
Subswitch available:

Subswitch not available:

Managing Devices
Status Indicators [ArtAddress]
In order to use these features, please Enable ArtAddress first.
[Please make sure that your nodes fully support this Art-Net feature, such as MADRIX LUNA, MADRIX NEBULA, MADRIX PLEXUS, MADRIX STELLA. You will also get notified by a message box. Confirm the message with OK or abort via Cancel.]
If wish to resize the window of the Device Manager to see more devices in the list, simply move your mouse pointer to the bottom of this window. Then, select the border and hold the left mouse button, while moving your mouse downwards.
If you are encountering problems, please work through the following checklist: