This topic includes:
There are 3 main types of MADRIX Effects:
As you can see, two 2 of 3 types of effects require audio input to work. MADRIX can work with an audio signal and it can work without an audio signal. But audio input is highly recommend. S2L and M2L Effects will create unique real-time effects based on sound, which will take your lighting display to the next level.
MADRIX cannot play back audio. Instead, the software uses incoming audio signals to create lighting effects.
Audio input can come from different sources [internal or external]. It is just a matter of configuration. MADRIX will allow you to set up every device that the Microsoft Windows operating system offers for recording.
Internal sources:
External sources:
Why A Professional Sound Card?
We recommend to use a professional sound card—preferably with ASIO support­­—to get the best results from the MADRIX audio analysis. MADRIX also natively supports the Windows Audio Session API [WASAPI]. This method automatically delivers very good results [even without ASIO].

Sound cards that provide an ASIO driver can provide excellent results. The MADRIX audio analysis will be very fast and precise. Sound2Light and Music2Light effects will look even better. It is therefore recommended to use a sound card with native ASIO support. However, this is not a requirement.
In order to make sure that your sound card works properly, we suggest testing it with MADRIX:
The general case is that MADRIX automatically finds a primary audio device and is able to work properly right from the first start. Often that means that you will not have to configure audio.
How To Set Up Audio Input In MADRIX


- Enables the standard Windows audio drivers. It is activated by default.
How To Set Up Your Audio Source In Windows
If MADRIX should use an audio input signal, you have to define the proper audio source in the Windows control panel first.
Introduction

ASIO [Audio Stream Input/Output] is a widely known audio standard.
Above all, the standard provides low latency; a feature often requested by professionals. When using ASIO, the MADRIX audio analysis will be faster and more precise. ASIO is a registered trademark of Steinberg Media Technologies GmbH.
Important Notes
Configuration


Configure the following settings:

Will let you configure your ASIO device further if advanced settings are available. Usually, the ASIO drivers that come with your interface will be launched. Make sure that your ASIO hardware is connected. Or else, no configuration window may be launched.
You need to activate the audio analysis in order to use it!
Learn more »Master / Audio Input Level
The Audio button can be automatically activated every time you start MADRIX.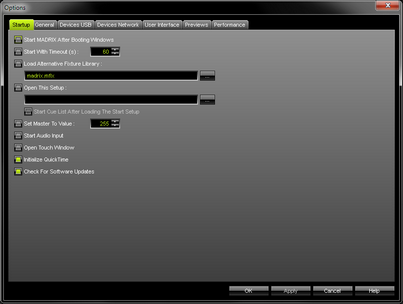 The results of the audio analysis are mainly influenced by the following factors:
You are able to adjust parameters for the audio analysis.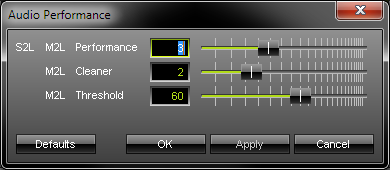 Different styles of music may require different Audio Performance settings for an optimal display.
If you are having problems with the audio configuration, try the following: