This topic includes:
▪

Go to

Preferences > Options... > General


[Keyboard shortcut:

Ctrl+Alt+O > General

]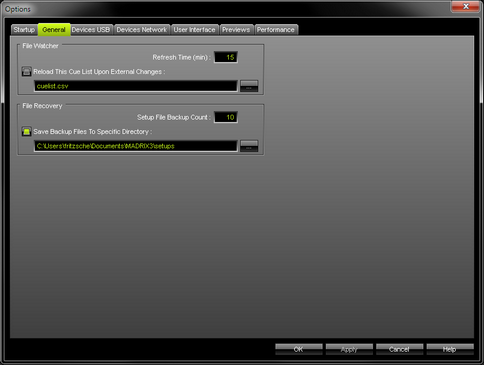 Overview
MADRIX can automatically and regularly reload a Cue List within a pre-defined refresh time.
▪

Activate

Reload This Cue List Upon External Changes
▪

Select the Cue List file via the button

...
▪

Enter the

Refresh Time (min)

in minutes.
Usage
The File Watcher with its Automatic Cue List Reloading feature is very useful if you are using an external program that creates a Cue List in the *.csv file format.
| | |
| --- | --- |
| ▪ | If this Cue List is changed, you are easily able to access the new Cue List without modifying settings within MADRIX. |
| | |
| --- | --- |
| ▪ | In order to work with this feature, simply create a new Cue List, save it using the *.csv file format and open the file with a text editor or other appropriate software. |
| | |
| --- | --- |
| ▪ | MADRIX can save its Cue List also in *.csv file format. |
Here is an example with two Cue List entries:
MADRIX;CSV;CUELIST;FILE;;;;;;;;;;;;
VERSION;50593792;;;;;;;;;;;;;;
TIMECODE FORMAT;1;TIMECODE SOURCE;0;;;;;;;;;;;;
CUE;DESCRIPTION;DATE;TIMECODE;DURATION;FOLLOW CUE;STORAGE;PLACE;FADETYPE;FADETIME;R;G;B;W;GROUP PRESET
1;"Color Scroll";"Daily";-1;180000;0;0;0;1;2.00;0;0;0;0;0;
2;"Red";"Daily";-1;266000;0;2;0;1;2.00;0;0;0;0;0;
Time Code Source

Setting

Time Code Format

Setting

0

1

2

3

4

None

System Time

MIDI

Art-Net

SMPTE

0

1

2

3

24 FPS

25 FPS

30 Drop

30 FPS

Learn more »Cue List
MADRIX can automatically create a backup copy of your MADRIX Setup file whenever you choose to save your Setup file. That means, before the new Setup file is saved, the previous state will be stored as a backup. [Should the saving process fail, you can access your Setup file again in the state it was saved last.]
▪

Setup File Backup Count -

Sets the maximum number of backup files that are created. The default value is 10.

[MADRIX creates separate copies to minimize the chance that a valid backup is overwritten by an invalid Setup file.]
▪

Save Backup Files To Specific Directory -

Enable this option if you want to set up a specific directory where the backup files should be stored. This can be external drives. If this option is disabled, MADRIX will save the backups in the same directory as the Setup files.




- Choose the directory via the button

...




-

By default, MADRIX automatically chooses a user directory for Setup files.
MADRIX will save a backup in the following way:
Filename_Date_Time.msz.msbackup
In order to restore a Setup file, remove .msbackup from the file name. The restored Setup file should then have a name, such as Filename_Date_Time.msz
▪

All

General

options will be saved locally on your computer. The settings described in this topic will not be saved in your MADRIX Setup file.