This topic includes:
You can access information and settings of the web configuration page also in MADRIX 5 using the MADRIX Device Configuration window.
[For MADRIX AURA, only the Device Name, IP address, and Subnet Mask can be changed here.]
▪In MADRIX 5, go to the menu Tools > MADRIX Device Configuration...
[Keyboard shortcut: Ctrl+Alt+L]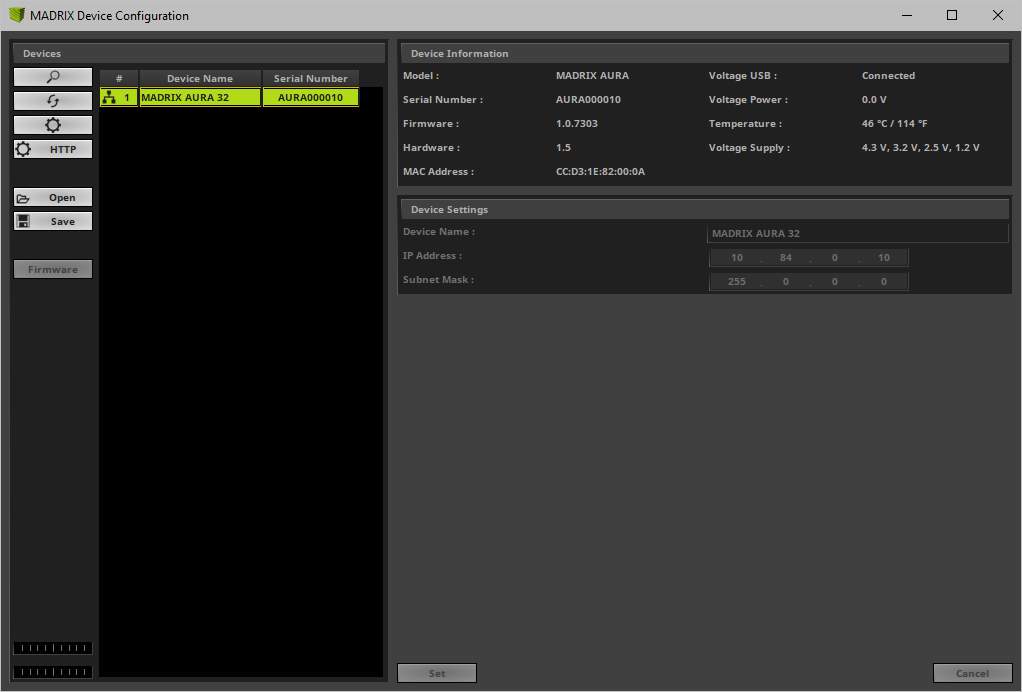 ▪Scans the USB ports of your computer and the network for connected MADRIX AURA devices. If devices are found, they will be shown in the list.
- To see network devices, you need to enable AURA networking drivers [they are activated by default] and connect MADRIX AURA and your computer to the same network first.

▪Refreshes already connected devices and brings the information in the list up to date.

▪Allows you to change the settings of your device. Apply your changes by confirming with Set

▪Enables remote access to the web configuration as explained above. MADRIX AURA needs to be connected via Ethernet [network connection required]. First, connect your computer and the MADRIX AURA to one and the same network. Second, select your MADRIX AURA in the list. Third, click this button. A web browser opens automatically.

▪Imports the MADRIX AURA Device Settings from an external file [of the file type *.madx]. Use this option to easily restore all device settings from a file [as described below].

▪Exports the MADRIX AURA Device Settings to an external file [of the file type *.madx]. Use this option to easily store all device settings in a file. Simply enter a name in the window that opens and click 'Save'.