This topic includes:
The MADRIX KEY itself is a technologically advanced device. That is why it also comes with its own firmware.
In order to function correctly, the MADRIX RADAR Software requires a minimum firmware version for the MADRIX KEY.
Overview
Make sure that your MADRIX KEY uses the correct firmware. You can update the MADRIX KEY firmware in different ways.
MADRIX RADAR Software Installation
During the MADRIX RADAR5 Software setup, you can choose to automatically update all connected USB software protection dongles.
▪

Make sure to select MADRIX KEY Firmware Update




[Deselect it if you don't want to update any connected USB security dongles now.]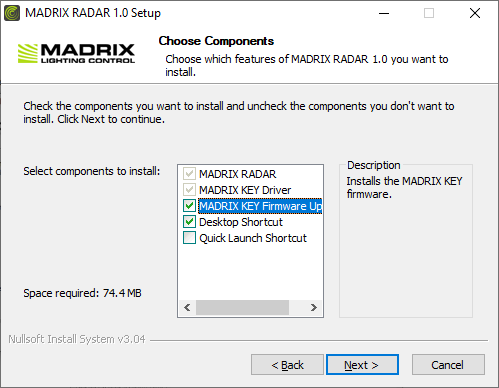 You can also find the link to the MADRIX KEY Firmware Update in the MADRIX RADAR Software:
▪

Go to the menu

Help > MADRIX KEY > Update MADRIX KEY Firmware...