This topic includes: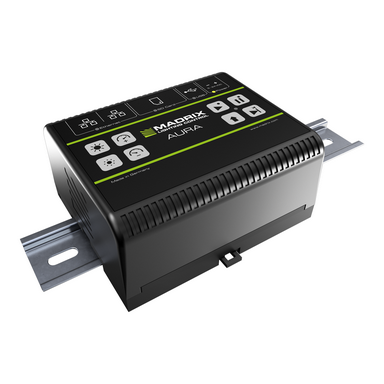 The advanced lighting control recorder and stand-alone playback unit.
The MADRIX AURA is the central stand-alone controller for simple recording and large-scale pixel mapping. It redefines what is possible in a compact control unit with exceptional performance.
Stand-Alone Playback & Central Hub
Independently run the most sophisticated light shows from this energy-efficient playback unit via Art-Net or Streaming ACN. Easily control up to 8 or 32 universes per device.
Simply connect compatible MADRIX hardware interfaces or third-party nodes to provide the correct output for your lighting fixtures.
MADRIX AURA is a standard network node for Art-Net or Streaming ACN. You can use the device with any compatible application, console, or controller.
The following tables describe the LED status codes of the device.
Reset To Factory Default Settings
Reset Via On-Device Buttons
Reset Via USB [MADRIX 5 Device Updater / MADRIX 5 AURA Updater]
Overview
When connected to Ethernet network, you can easily configure MADRIX AURA using the built-in web configuration.
You have 2 options to access the web interface. Both, AURA and your computer, need to be in the same network.
A] Using a standard web browser:
B] Using the MADRIX 5 Software:
The MADRIX AURA works great in combination with the MADRIX 5 Software.
In order to record data (effects and visuals) from MADRIX 5, a MADRIX 5 software license is required (sold separately)!
Please configure your virtual LED matrix with the help of the »Matrix Generator or »Patch Editor to define the correct resolution for your record.
Before recording to MADRIX AURA, make sure to set up the correct settings in the MADRIX 5 Options.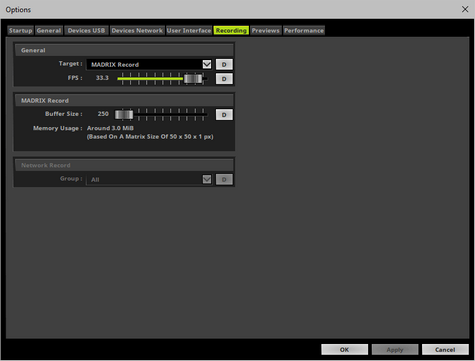 Make sure to set up the correct settings as explained above.
There are two locations in the MADRIX 5 Software where you can create records.
Overview
You can find the Main Output Recording directly on the main user interface.
As the name implies, you will record everything from your Main Output. This will include any crossfades, effect changes, brightness changes, etc.

Important Note
How To Record
Context Menu
Overview
The Cue List Recording features are part of the Cue List .
You can open the Cue List in 3 ways:

Important Note
How To Record
Context Menu
- Watch... - Calls up the Cue List Recording window again for more details.
- Options... - Calls up the Recording Options. Learn more »Recording

- Cancel - Aborts the recording process without asking you to save the file.
You can access information and settings of the web configuration page also in MADRIX 5 using the MADRIX Device Configuration window.
[For MADRIX AURA, only the Device Name, IP address, and Subnet Mask can be changed here.]
Learn more Device Configuration
Update Via Ethernet
Overview
MADRIX 5 AURA Updater is a separate tool only for MADRIX AURA. It is integrated into the MADRIX 5 Device Updater.
It requires the connection over USB.
Usage
MADRIX 5 AURA Updater can be used for several, specific tasks.
Important Notes
Where To Find The MADRIX 5 Device Updater
The MADRIX 5 AURA Updater is included in the MADRIX 5 installation as part of the MADRIX 5 Device Updater. After installing MADRIX 5, you can find a link in the Windows Start menu:
The original, executable program can be found in the MADRIX 5 installation directory: