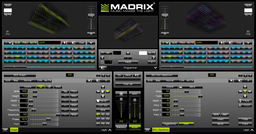 Your MADRIX PLEXUS ships with MADRIX.
MADRIX is a professional and advanced LED lighting control software.
The PLEXUS already includes the software license for 1024 DMX channels. The data output (the license) is automatically activated when you connect the PLEXUS to a computer that has the MADRIX software installed and the USB and/or Ethernet drivers enabled in MADRIX.
You can use MADRIX for the PLEXUS Live Mode, to create PLEXUS Configurations and Stand-Alone Shows, or to configure your device further.
'MADRIX Help And Manual' is the user guide for MADRIX. The MADRIX PLEXUS User Manual includes important features from this software manual. Nevertheless, often you can find more information on the software in the MADRIX Help And Manual.
Please read the following subtopics to learn more about MADRIX in combination with the MADRIX PLEXUS.