Overview
The PLEXUS allows you to send data via MADRIX using 1024 DMX channels per device.
The MADRIX PLEXUS features two 5-pin, female XLR connectors. Please use XLR adapters if necessary!
Usage
This chapter describes how DMX512 can be used to connect your MADRIX PC to the MADRIX PLEXUS via USB to output DMX data.
(Your LED fixtures, LED controllers, or LED drivers would be connected to the XLR ports of the PLEXUS device.)
Using MADRIX
Please make sure to install the MADRIX software first.
For more information about the installation process, see the MADRIX PLEXUS Quick Start Guide or the MADRIX Help And Manual.
Enabling USB Drivers In MADRIX
Please make sure to enable USB drivers in MADRIX.
For more information, see Loading And Enabling Drivers in MADRIX.
Connecting MADRIX PLEXUS To Your PC
Now, please connect the MADRIX directly to a free USB 2.0 port of your computer. If the MADRIX PLEXUS driver has been installed properly, the status LEDs will light up accordingly, as described in the chapter Troubleshooting.
Start the MADRIX software now if not yet done.
Configuring Your Virtual LED Matrix In MADRIX
You will need to configure your virtual LED matrix according to your LED installation.
In MADRIX, navigate to the menu 'Preferences' > 'Matrix Generator...' or 'Preferences' > 'Patch Editor...' for this task.
For more information, please read the MADRIX Help And Manual.
Configuring DMX-OUT In MADRIX
Activating Your Device
In MADRIX, navigate to 'Preferences' > 'Device Manager...' (or press 'F4').
The first tab 'DMX Devices' shows a list of connected devices.

Click this button if your device is not shown in the list in order to search for connected devices.
Two list entries will be created for your PLEXUS device, one entry for every DMX port ('DMX 1' and 'DMX 2').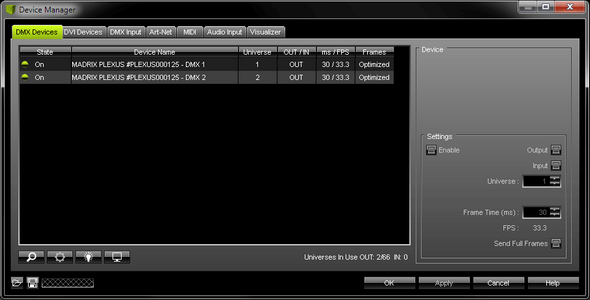 By default, 'Enable' as well as 'Output' should be enabled for every DMX port.
Please check if both options, 'Enable' and 'Output', are activated!
Your PLEXUS device is now configured to output DMX data.
Setting Up The DMX Universe

In the next step, set up the DMX 'Universe' for each DMX port. Simply use the two arrow buttons to adjust the values. Click 'Apply' afterwards.
Make sure that this configuration match the settings of your virtual LED matrix of the Patch.
Further Configuration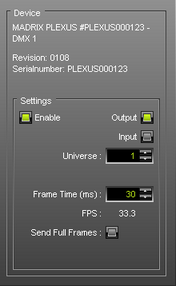 You can also define the 'Frame Time' in ms for each device. Frames per second (FPS) will be adjusted automatically according to the frame time.
Setting up the frame time can help in different cases. For example, certain LED fixtures might work best with a specific frame rate. Make sure to use the optimal frame rate for your fixtures. Some LED fixtures might have problems with high frame rates. Then, you can increase the frame time and the FPS will be adjusted automatically.
Always click 'Apply' to activate any changes you made.

Activate 'Full Frames' if PLEXUS devices should always send full frames, instead of optimized frames on a particular universe. Sending full frames means that always the full 512 DMX channels of a DMX universe will be sent with every frame (even when you are using less than 512 channels per universe). Otherwise, MADRIX will send the number of DMX channels that is configured.
Always click 'Apply' to confirm any changes you made.

The 'Highlight' button activates/deactivates the highlight mode for the selected device and universe.
Select one ore more interfaces and click the button. The corresponding fixtures connected to the selected interface(s) will completely light up white for a better identification. This makes it easier to see them on stage. It considerably speeds up the procedure of programming the selected DMX512/Art-Net interfaces.
In addition, the display of selected PLEXUS devices will flash regularly.


Open the 'DMX Watcher' to monitor your DMX output or input. 'Watch Universe' will appear when you have selected a list entry. The DMX Watcher will open with the particular DMX Universe already entered.
Click 'OK' when you are finished setting up your devices.
Resizing The Window
If wish to resize the window of the Device Manager to see more devices in the list, simply move your mouse pointer to the bottom of this window. Then, select the border and hold the left mouse button, while moving your mouse downwards.
Monitoring DMX Output Or DMX Input
You can monitor incoming or outgoing DMX values on your device in the PLEXUS menus 'Tools' > 'Monitor DMX 1' and 'Tools' > 'Monitor DMX 2'.
Important Notes
Please make sure to save your MADRIX Setup after the configuration process.